Posts Tagged 'Fadia Kader'
December 28, 2010 | by
OriginalFani
|
Events
,
Music
|
Come Up Kids
,
DJ Dibiase
,
DJ Osh Kosh
,
Fadia Kader
,
FatKidsBrotha
,
Gunner Stahl
,
KBDidIt
,
Kreemo
,
Retro Sushi
,
Young Lyxx
|
No Comments
|
Share
Fadia Kader & Johnny Shipes Presents : New Year's Eve Party  12.31.10 Doors Open at 10PM Located at Loft A6 in the Metropolitan Lofts, 675 Metropolitan Parkway Atlanta, GA. $2o Admission and Open Bar. Sounds by DJ Dibiase & DJ Osh Kosh, Photography by KBDidIt & Gunner Stahl. Hosted by Shiest Bubz. Live performances from, Big KRIT, Smoke Dza FatKidsBrotha, Retro Sushi & Young Lyx. Sponsored by Kreemo & New Era."
"What a great way to celebrate the New Year. With the addition of an Open Bar some people might not even remember it. #Shoutout to @FadiaKader, @RetroSushi , FKB, Kreemo, Gunner, Dibiase, Lyxx, Osh, Kreemo & the whole Top Heavy, Come Up Kids family!"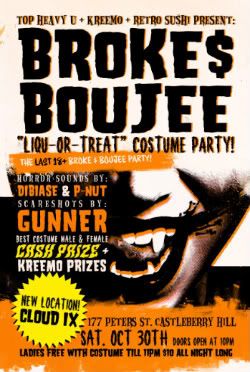 Retro Sushi x Kreemo x Top Heavy U Present : BROKE $ BOUJEE "Liq-Or-Treat" Costume Party! The last 18+ Broke & Boujee party Saturday October 30th. Doors Open at 10PM. Spins by DJ DIbiase & DJ P-Nut. Screenshots by Gunner. Best costume Male and Female cash and Kreemo prizes. Located at Cloud 9, 177 Peters St. Castleberry Hill. Ladies free with costume till $10 all night long.
"I might be myself this year.#Shoutout to @BBCeej, @RetroJACE, @YoungLyxx, @DJDibiase, @Kreemo, Kreemo.com & Fadia Kader!"